Ageless Adventures: Insurance Tips for RV Owners
More than 504,000 recreational vehicles (RVs) were shipped to dealers in 2017, a 17% increase over the previous year and a new industry record. This trend is expected to continue in 2018, making it the ninth straight year of expansion.1
Retiring baby boomers account for much of the growth in RV ownership, but they are not the only Americans who enjoy RV travel as a way to relax and see the country. In 2016, Gen-Xers and millennials accounted for 72% of campers.2
If you own an RV or are planning to purchase one, it would be wise to understand the types of insurance coverage available. An RV is a hybrid — part vehicle, part home — so it generally requires more specialized insurance.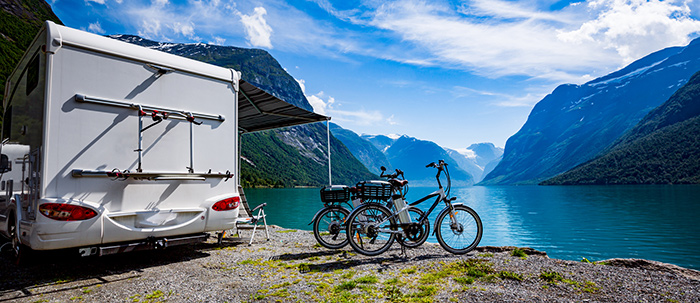 RV Policies
Though you might be able to add an RV to your automobile policy, doing so may not provide adequate coverage for personal possessions, accessories, and liability related to the RV lifestyle. A specific RV policy would typically include coverage similar to a standard auto policy, such as bodily injury, property damage liability, uninsured/underinsured motorist, comprehensive, collision, and medical payments (up to the policy limits), as well as additional options. Some policies may offer higher limits than standard auto policies and could provide a coverage package that is more appropriate for recreational vehicles. For example:
Total loss replacement — Provides a new, comparably equipped RV if your newer-model RV is damaged beyond repair within a specified time period (often the first several years). Other collision and comprehensive insurance options, which are typically less expensive than total loss replacement, would replace your vehicle based on market value or agreed value, depending on the coverage you choose.
Personal property — Pays for replacement of personal items in your RV, such as cameras and sporting goods. Standard homeowners insurance might cover personal items (up to policy limits) for the first 30 days, but the amount may be reduced significantly after that period.
Vacation liability — Pays for bodily injury and property damage losses that occur at your campsite or in the area around your RV.
Emergency expenses — Pays your expenses for hotels and transportation due to a covered loss.
Awning or custom equipment — Pays to replace a damaged awning or aftermarket equipment such as a satellite dish.
Other types of coverage that may be available include windshield damage, roadside assistance, fire department service charges, and special coverage for travel in Mexico.
Are You a Full-Timer?
If you live in your RV for extended periods of time, you may require full-timer coverage. The distinction between this type of coverage and standard RV coverage varies from company to company. For example, one company might define a full-timer as someone who lives in an RV for five or more months in one year, whereas another company may consider you a full-timer only if you have no other place of residence.
Typically, a full-timer policy is similar to a homeowners insurance policy, and it might offer additional coverage for items in a storage shed, expensive jewelry in your RV, or a golf cart that you drive in the area around your campground.
What's Your Type?
RVs come in various shapes and sizes, including large Type A motorhomes, Type B motorhomes (van campers), Type C motorhomes (mini motorhomes), and travel trailers. If you are considering the purchase of a specialized RV insurance policy, or you want to add your RV to your auto policy, check to see whether the insurance will cover the specific type of vehicle you own.
An RV can be a great way to travel, whether you're on an extended trip or a quick getaway. Before you hit the road, be sure you have the appropriate protection.